Paralan Model EB1 Expander Box is a 1U (1.75 inch) tall enclosure that may be used as a desktop housing for Paralan's family of SCSI Bus Expanders or may be mounted in a 19 inch rack with the optional rack mount adapters.

The Model EB1 includes positions for mounting and powering up to three SCSI expanders, which may all be the same or may have a different type of expander in each postion. All I/O connectors and the connector for the power cord are on one side of the box. Each expander has a "Power" and an "Activity" LED. All expanders are powered by one internal auto-ranging line voltage operated power supply. The power supply has an IEC line voltage power connector and includes an on-off switch. For a printable version of this information, please see the PDF version of this data sheet.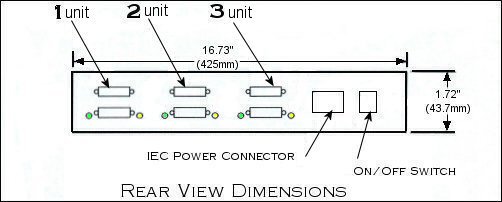 (The height of this drawing is not proportional to its width)
SPECIFICATIONS:
Available Expanders:
For complete information on these expanders, see the appropriate Web page (click on link below). Other Paralan expanders are available on special order. See diagram for (rear view) connector location.

Other Paralan expanders are available on special order:
Environmental:


The Paralan SCSI Expander Box is designed to operate in an office environment with limited capacity for heating and air conditioning. The environmental limits are:


Temperature Range:
Operating: 0 to +50 C (32 to 122°F)
Storage: -25 to +75C (-13 to 167°F)
Humidity Range:
Operating: 5 to 90% RH
Storage: 5 to 95% non-condensing
Construction:

All Metal
SCSI Connectors:

Wide: 68-pin High-Density female Alt 3, "P" Connector
Narrow: 50-pin High-Density female Alt 1, "A" Connector
Power:

Maximum Power Requirements: 40 Watts
Line Voltage: 90 to 264 VAC, 47/63 Hz Auto-Ranging
Safety:

UL, CE, CSA
EMI/RFI:

FCC Class B, CE
Dimensions:

16.73 x 10.0 x 1.72 (425 x 254 x 43.7 mm)
Vertical Rack Space 1U (1.75 inches, 44.5 mm)
Weight:

11 lbs (5 kg)
18 lbs (8.2 kg) shipping
ORDERING GUIDE FOR EXPANDER BOX:
Make a selection from each column

On special order other Paralan Expanders may be installed.
Example 1:



Rackmount Enclosure with MH33A Wide LVD/MSE to HVD Converter in all three positions
Model No. EB1-AAA-R
Example 2:



Tabletop Enclosure with MH33A Wide LVD/MSE to HVD Converter in position 1, no expander in position 2, and MM17 Wide LVD/MSE to LVD/MSE Expander in position 3
Model No. EB1-A0C-T
---
Notes:



1. The EB1 comes assembled and wired with the selected boards installed.
2. A six foot North American grounded cordset (NEMA 5-15) is included in shipments to destinations in North America and Japan. Other destinations receive no cordset.
9 TO 5 COMPUTER:
Global Value-Added Distribution of NEW, used and refurbished computer periphery by a family-owned and operated company since 1979- distributing internationally computer related peripherals on the new, used and refurbished levels.
HP
,
Compaq
,
IBM
,
CISCO
,
3COM
,
APPLE,
SEAGATE
, and other major branded products as well as a MAJOR focus on Mass Storage related drives, media,
storage racks
,
tri-optic barcode labels
, libraries, autoloaders,
duplicators,
jukeboxes,
HBA's,
JBOD, Raid,
SAN, NAS
and
software solutions
.
As our stock of NEW, used and refurbished storage equipment changes daily, be sure to use our online chat service to get "real time" pricing from a knowledgeable sales technician. We also offer the lowest priced storage media on the net. Contact us now for drive rental, repair, duplication, software solutions or professional consultation.
*Buying refurbished can be better than buying new because flaws have been found and fixed, once it is deemed to be complete and in good working order it is repackaged to be sold at a lower price as refurbished.