Highlights:



Switch between Primary and Backup devices during system maintenance


Access a single device or group of devices from more than one host


Switch between two devices or groups of devices with the same SCSI address


Access for more than the 15 SCSI devices normally available to a Wide SCSI Port


Does not consume a SCSI address
Operation:
The SS1 SCSI Bus Switch allows two hosts to share peripherals or one host to access either of two sets of peripherals. Each port may be SE, HVD or LVD. Switching from one port to the other may be accomplished: a. locally with the front panel switch, b. remotely with a momentary dry contact closure, or c. remotely via the RS-232 port. A software template for the RS-232 port is included in the User Manual. In all cases switching does not occur until "bus free."

In mode One, Port 1 is connected to the Common Port. In mode Two, Port 2 is connected to the Common Port. A front panel LED displays the selected port. Each port supports a full SCSI cable length and provides term power and termination, which may be disabled. The SS1 does not consume a SCSI device ID, is transparent to both initiator and target, and does not slow data throughput. Devices on the LVD ports run at SCSI throughput up to 160 Mbytes/sec, HVD and SE ports run at up to 40 Mbytes/sec. An amber LED for each port indicates bus activity and a green LED indicates that each port is powered. See Rear View Photo. For a printer friendly version of this information, please see the PDF version of this data sheet.

A front panel 7-segment LED display shows the active port.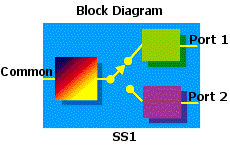 Specifications:
SCSI Interface:


Order LVD/MSE, HVD or SE for each port
LVD supports Ultra 160
HVD or SE supports Ultra

Cable Length & Data Throughput:

LVD - up to 160 Mbytes/sec
25 m (82 ft) point-to-point
12 m (40 ft) with more than 2 IDs
SE - up to 40 Mbytes/sec
6 m (20 ft) SLOW SCSI
3 m (10 ft) FAST SCSI
1.5 m (5 ft) Ultra SCSI
HVD - up to 40 Mbytes/sec
25 m (82 ft)

Serial Interface:


Mode: 8 bits, 1 stop bit, no parity
Baud Rate: 9600 baud
Max Cable Length: 50 feet

Environmental:


The Paralan SCSI Switch is designed to operate in an office environment with limited capacity for heating and air conditioning.



Temperature Range:

Operating: 0 to +50 C
Storage: -25 to +75C

Humidity Range:

Operating: 5 to 90% RH
Storage: 5 to 95% non-condensing

Construction:

All Metal

Connectors:

Wide SCSI: 68-pin High-Density, female Alt 3, P Connector
Narrow SCSI: 50-pin centronics type, female Alt 2, A connector

Power:

Maximum Power Requirements: 40 Watts
Line Voltage: 90 to 264 VAC,
47 to 63 Hz Auto-Ranging

Safety:

UL, CSA, CE

EMI/RFI:

FCC Class B, CE

Dimensions:

16.75 x 10.0 x 1.72 (425.5 x 254 x 43.7 mm)
Vertical Rack Space 1U (1.75 inches, 44.5 mm)
Rear Panel PDF Drawing with Full Dimensions

Weight:

11 lbs (5 kg)
22 lbs (10 kg) shipping

The Model SSI SCSI Switch allows three independent SCSI Buses to be connected in several configurations as delineated in the table below:
| | | |
| --- | --- | --- |
| PORT 1 | COMMON | PORT 2 |
| LVD/MSE, HVD or SE (Wide) | LVD/MSE | LVD/MSE, HVD or SE (Wide) |
| LVD/MSE, HVD or SE (Wide) | HVD | LVD/MSE, HVD or SE (Wide) |
| LVD/MSE, HVD or SE (Wide) | SE (Wide) | LVD/MSE, HVD or SE (Wide) |
| SE (Narrow) | SE (Narrow) | SE (Narrow) |
ORDERING GUIDE FOR SCSI SWITCH:
Standard Configurations:

SCSI 2 X 1 Switch For Tabletop or Rack
| Model No.: SS1 | | X | X | X | T or R |
| --- | --- | --- | --- | --- | --- |
| Select one letter from each column: | | PORT 1 | COM | PORT 2 | | |
| | | | | | | |
| High Voltage Differential (HVD) Wide port | | H | H | H | | |
| Multimode LVD (LVD/MSE) Wide port | | L | L | L | | |
| Single-ended Wide (68-pin HD connector) | | S | S | S | | |
| Single-ended Narrow (50-pin centronics type connector) | | N* | N* | N* | | |
| | | | | | | |
| Tabletop Enclosure with Rubber Feet | ------------- | -------------- | --------------- | --------------- | T |
| Adapters for Rack Mounting the Switch - 1 Pair | ------------- | -------------- | --------------- | --------------- | R |
*N version available only as SS1-NNN-T or R
Custom switch inquiries for OEM quantities are welcome.
Example 1: Model No. SS1-LHL-T - Tabletop Model SS1 with LVD/MSE at both switched ports and HVD at the Common port
Example 2: Model No. SS1-SLH-R - Rack Mount Model SS1 with LVD/MSE at the Common port, SE Wide at Port 1 and HVD at Port 2
---
Notes:
The SS1 comes assembled and wired with the selected Ports installed.
A six foot (1.84 m) North American grounded cordset (NEMA 5-15, rated 250 VAC) is included in shipments to destinations in North America and Japan. Other destinations receive no cordset.
9 TO 5 COMPUTER:
Global Value-Added Distribution of NEW, used and refurbished computer periphery by a family-owned and operated company since 1979- distributing internationally computer related peripherals on the new, used and refurbished levels.
HP
,
Compaq
,
IBM
,
CISCO
,
3COM
,
APPLE,
SEAGATE
, and other major branded products as well as a MAJOR focus on Mass Storage related drives, media,
storage racks
,
tri-optic barcode labels
, libraries, autoloaders,
duplicators,
jukeboxes,
HBA's,
JBOD, Raid,
SAN, NAS
and
software solutions
.
As our stock of NEW, used and refurbished storage equipment changes daily, be sure to use our online chat service to get "real time" pricing from a knowledgeable sales technician. We also offer the lowest priced storage media on the net. Contact us now for drive rental, repair, duplication, software solutions or professional consultation.
*Buying refurbished can be better than buying new because flaws have been found and fixed, once it is deemed to be complete and in good working order it is repackaged to be sold at a lower price as refurbished.